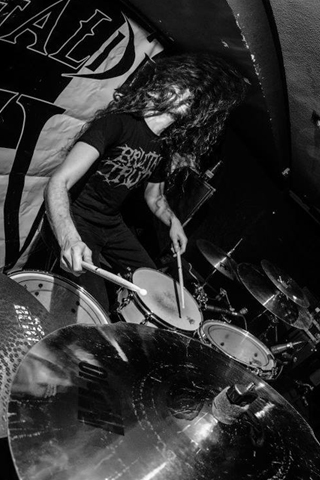 Chus Maestro (Madrid, 1981) is a graduated in Communications and Media and -aside from his musical activity- works as a drum teacher  and combo director in several music schools since 2004.
He began taking drums lessons back in 1995, although he developed his style as a self-taught drummer playing in several bands of different genres, training himself as a versatile musician with a vast experience in studio and live sessions.
Chus has played more than a hundred shows and recorded a dozen albums -so far- which have been released in Japan, United States and Europe.
Two big drumming companies like Meinl and Sonor have chosen him as an official endorser of their own instruments, and has worked with well-known musicians such as Jerónimo Ramiro (guitarist of Santelmo and Saratoga) or Leo Jiménez (singer of Stravaganzza and Saratoga).
His approach to the drums is closer to the artistic expression than just the performing, emphasizing in creativity and how the rhythm language interacts with the other instruments, while taking an active rol as a composer, producer or lyricist within his own bands (Hybrid, Another Kind of Death)
A devotion for music and curiosity leads him to be always open and interested in collaborating with other musicians or new projects where the experimentation and inventiveness challenge musical standards and stablished conventionalisms.