This month I begin my collaboration as a live percussionist with Aegri Somnia, a neofolk act from Madrid formed by musicians from As Light Dies and Autumnal  which edited their debut album last year.
In "Ad augusta per angusta" they adapt iberian traditional oral songs merged with some modern music like black metal and darkwave, giving birth an obscure projection of the popular folklore where traditional percussion is mixed with gloomy guitar arpeggios and dramatic chants about the dark past of Spain.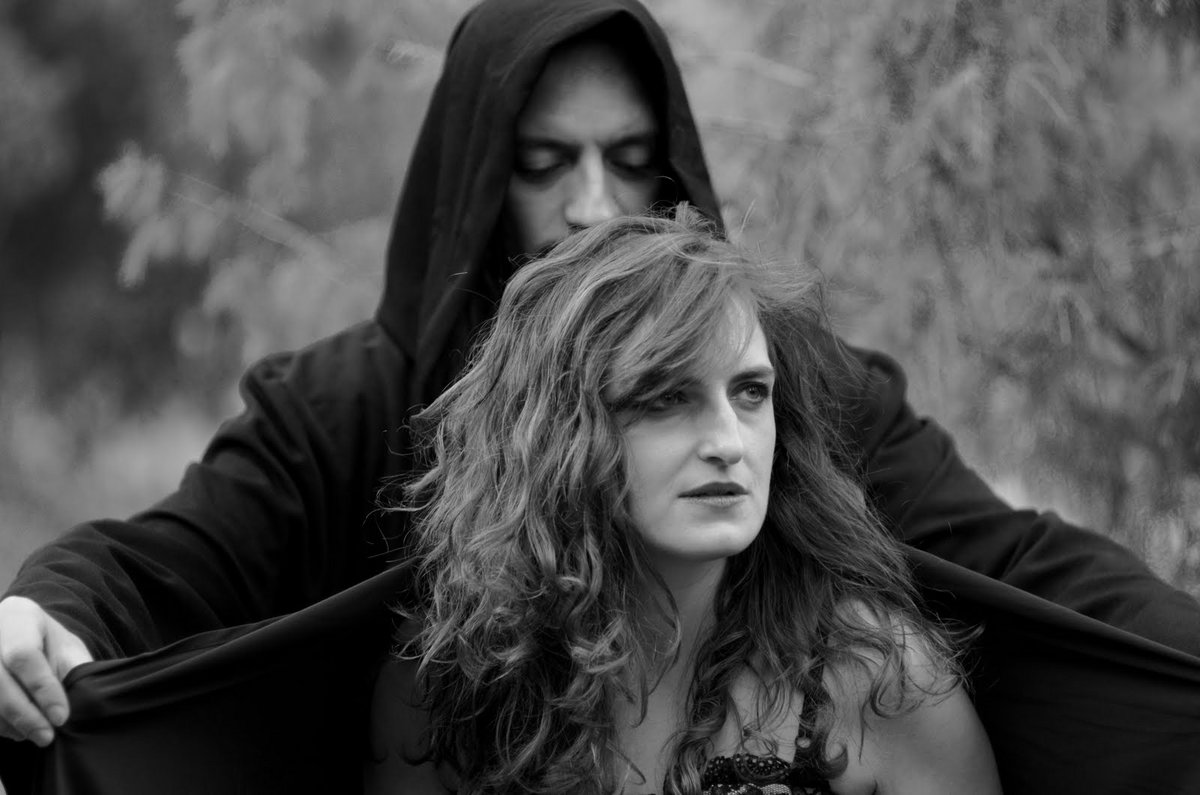 The next show will be on december 5th at sala Siroco (C/San Dimas 3) in Madrid from 20:30 with the folk bands Keltika Hispanna and Ursaria.
Este mes de octubre empiezo a colaborar como percusionista de directo con Aegri Somnia, grupo de neofolk madrileño formado por integrantes de As Light Dies y Autumnal que editaron su disco debut el año pasado.
En "Ad augusta per angusta" adaptan canciones de tradición oral ibéricas fusionadas de manera vanguardista con otras músicas modernas como el black metal o el darkwave, dando como resultado una oscura proyección del folclore popular donde la percusión tradicional se mezcla con tétricos arpegios de guitarra y dramáticos cantos poéticos sobre la España Negra.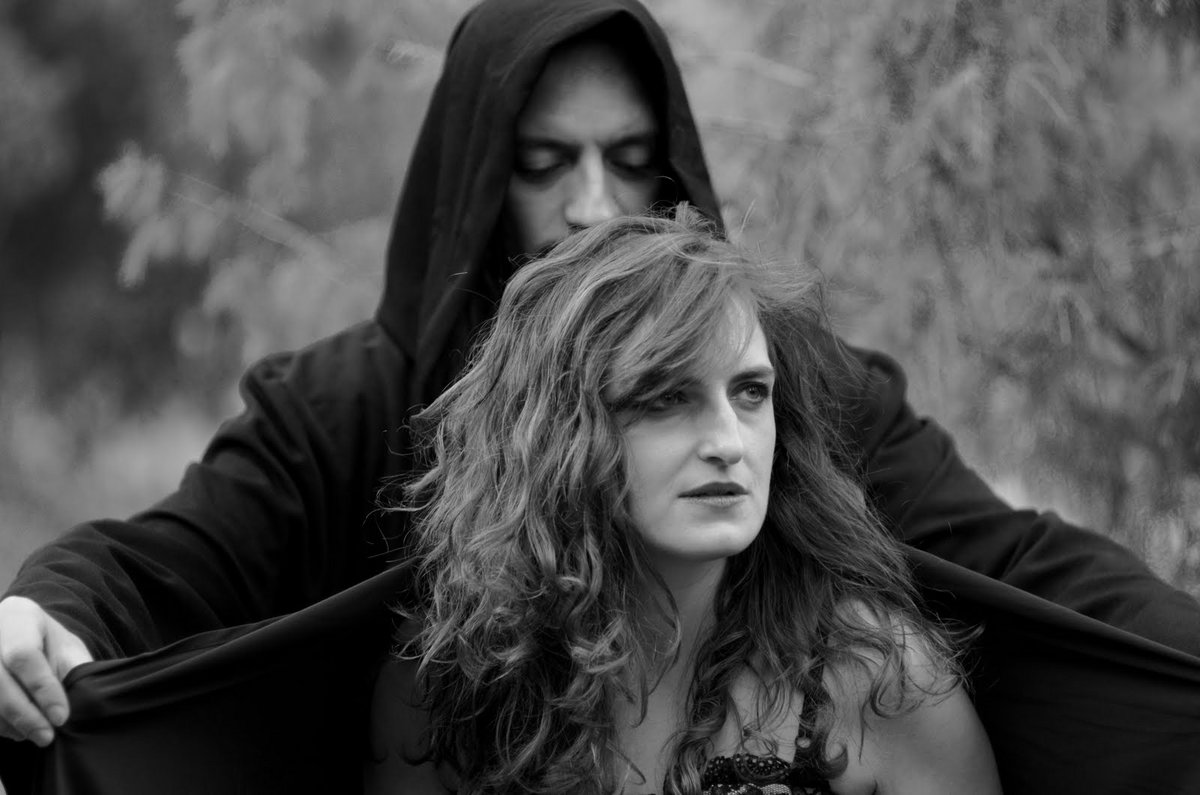 El próximo concierto será el 5 de diciembre en la sala Siroco (C/San Dimas 3) de Madrid a partir de las 20:30 junto con los grupos de folk Keltika Hispanna y Ursaria.
Nuevo drum cover tocando una vieja canción de Meshuggah perteneciente a su EP de 1994 "None". La batería tiene un interesante toque progresivo y fusionero además de sus polirritmias marca de la casa:
Más videos en el canal de youtube de Chus Maestro
New drum cover playing an old groovy Meshuggah song from their 1994 EP "None". The drum beats have an interesting progressive/fusion approach plus their signature polyrhythms:
More videos at Chus Maestro's youtube channel
¿Existe mejor manera de practicar como ambidiestro que estando enfundado en un disfraz de dinosaurio?
El peculiar estilo y sonido de John Stanier de Helmet han sido la motivación para tocar este tema. El ritmo principal puede parece simple y mecánico pero camina con un groove asincopado y se adapta perfectamente a la canción. Atención a las últimas variaciones rítmicas sobre el riff en 6/4.
¡Contemplad el primer dinocover de youtube!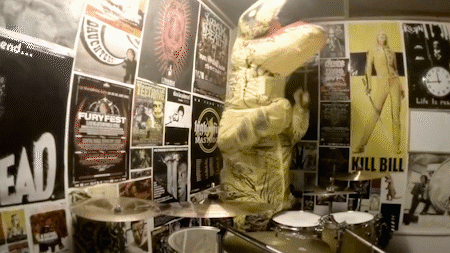 Más videos en el canal de youtube de Chus Maestro
Just having fun stuffed inside a dinosaur costume practicing ambidextrousness.
John Stanier from Helmet has an unique style and sound which was the reason to play this tune. The main rhythm may seem simple and mechanic but is groovy and fits perfectly with the song. Pay attention to the last rhythm variations for that 6/4 riff.
Behold the first T-Rex drum cover of youtube!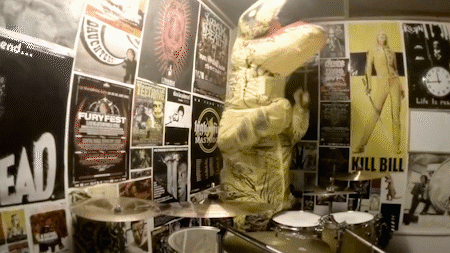 More videos at Chus Maestro's youtube channel
El mes pasado Megara me invitaron a participar como percusionista en el concierto presentación de su nuevo disco en el teatro Barceló de Madrid. Éstos son algunos momentos de los ensayos y del concierto temático (sobre Alicia en el País de las Maravillas) junto a su batería Pol DQ y Raquel (baterista de Broken Lingerine).

Más videos en el canal de youtube de Chus Maestro
Last month I've been invited to play with the band Megara in a percussion ensemble during the live premiere of their new album at Teatro Barceló (Madrid). Here are some takes from the rehearsals and the live show (Alice in Wonderland-oriented) with their drummer Pol DQ and Raquel (drummer of Broken Lingerine).

More videos at Chus Maestro's youtube channel
Hace dos meses me rompí un dedo de la mano derecha y cuando el médico me estaba escayolando el brazo sabía que no podría tocar la batería durante bastante tiempo…
En lugar de deprimirme aproveché la oportunidad para practicar con mi mano izquierda todos los días con el pad. Después de dos semanas ya notaba bastante control con mi mano "débil" y empecé a tocar la batería en posición abierta.
Un amigo me sugirió probar canciones de Def Leppard y así lo hice para demostrar que se puede tocar sin problema con una mano como lo hace Rick Allen.
Actualmente ya tengo el dedo 100% recuperado y siento un buen balance de control entre las dos manos gracias al maratón intensivo de mano izquierda durante 6 semanas.
Espero motivar a otros bateristas que pudieran estar lesionados a seguir tocando y mejorando su coordinación.
Más videos en el canal de youtube de Chus Maestro
A couple of months ago I broke a finger of my right hand and when the doctor wrapped my arm with paster I knew that I won´t be able to play for at least two months…
But instead of feeling depressed I took the chance to build up my weak hand practicing every day with my pad. After two weeks I improved a lot my control and I began to play one-handed with an open position.
A friend of mine suggested me to play Def Leppard covers and I did it to prove we all can play with just one hand as Rick Allen does.
I hope to motivate other crippled drummers to keep playing and developing skills no matter what limb is useless.
Now I have my hand 100% recovered and I feel a good balance between both hands due this 6 week intensive left hand marathon!
More videos at Chus Maestro's youtube channel