Este mes de octubre empiezo a colaborar como percusionista de directo con Aegri Somnia, grupo de neofolk madrileño formado por integrantes de As Light Dies y Autumnal que editaron su disco debut el año pasado.
En "Ad augusta per angusta" adaptan canciones de tradición oral ibéricas fusionadas de manera vanguardista con otras músicas modernas como el black metal o el darkwave, dando como resultado una oscura proyección del folclore popular donde la percusión tradicional se mezcla con tétricos arpegios de guitarra y dramáticos cantos poéticos sobre la España Negra.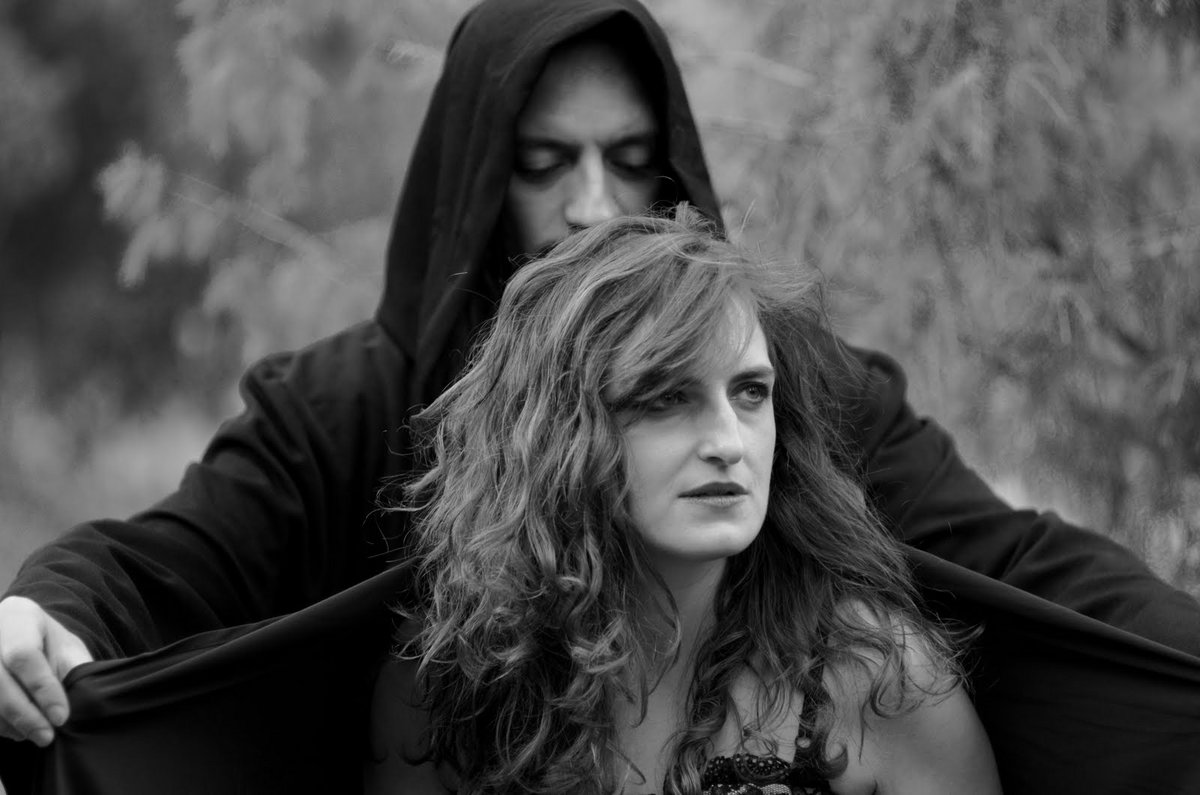 El próximo concierto será el 5 de diciembre en la sala Siroco (C/San Dimas 3) de Madrid a partir de las 20:30 junto con los grupos de folk Keltika Hispanna y Ursaria.
El mes pasado Megara me invitaron a participar como percusionista en el concierto presentación de su nuevo disco en el teatro Barceló de Madrid. Éstos son algunos momentos de los ensayos y del concierto temático (sobre Alicia en el País de las Maravillas) junto a su batería Pol DQ y Raquel (baterista de Broken Lingerine).

Más videos en el canal de youtube de Chus Maestro
Primeros conciertos junto a la banda de death metal Bloodhunter en su "Bloody Tour 2015" sustituyendo temporalmente al batería Iván Guillén:
25 de julio en Viseu Rock Fest (Portugal)
1 de agosto en Ruedas de Metal Fest (Barcelona)
Su disco debut "Bring Me Horror" fue favorito en muchas listas de los mejores discos nacionales de 2014 destacando sobre todo por una potente voz femenina:
Próximamente se anunciarán más fechas de conciertos.
Chus Maestro ha grabado recientemente las baterías del próximo EP de Agresiva, que llevará por titulo "Chronophobia" y será mezclado en los estudios Sadman (Hamlet, Hybrid) durante el mes de agosto en Madrid.
También estará actuando con la banda el próximo sábado 27 de julio en la decimosegunda edición del festival Skulls Of Metal de Jaén.
Agresiva continúan presentando su disco debut "Eternal Foe" por toda la geografía española con Chus Maestro a la batería. Estas son las últimas fechas de la gira:
20-04-2013: Silent Steel Fest, Factoria del So, Palma de Mallorca.
26-04-2013: WILD + AGRESIVA + SOFIRE + WILD FREEDOM, Sala Ovella Negra, Barcelona.
27-04-2013: WILD + AGRESIVA + SOFIRE + DEVIL WIND, Sala Orfes del Rock And Roll, Reus.
11-05-2013: AGRESIVA + VX, Sala Paberse Matao, Sedaví, Valencia.
18-05-2013: SHERATÁN + AGRESIVA + EMBLOODYMENT, Sala Excalibur, Madrid.
07-06-2013: AGRESIVA + BPC, Nave La Cueva, Palencia.
08-06-2013: SHERATÁN + AGRESIVA, Cáceres.
27-07-2013: XII Skulls Of Metal, Campo de Fútbol "Las Escuelas", Jaén.
Próximos conciertos confirmados con Agresiva:
26 de enero en Madrid: Agresiva + Farland
11 de mayo en Valencia: Agresiva + VX
27 de julio en Jaén: XII Skulls Of Metal
AGRESIVA continúa la gira de presentación de su disco debut "Eternal Foe", la próxima fecha en directo será el próximo sábado 1 de diciembre en la sala Metalarium de Badajoz junto a los grupos Wild y Tubarâo.
Más información aquí
Agresiva han sido confirmados en el cartel de la próxima edición del festival Heavy Metal Maniacs que se celebrará los días 26 y 27 de octubre en Hoor (Holanda).
Más información en: www.heavymetalmaniacs.com
El próximo sábado 10 de noviembre, a partir de las 20:30h, Agresiva estará presentando oficialmente su disco debut "Eternal Foe" en sala Ritmo & Compás.
Para la ocasión contarán con la colaboración de artistas invitados y estrenarán el videoclip "Hell Town", rodado para el homónimo corte incluido en su trabajo.