Recientemente estuve trabajando algunas técnicas que he podido poner en práctica tocando canciones de diferentes estilos (casi opuestos) potenciando la versatilidad a base de contraste.
Desde el funk setentero de The Bamboos con una batería llena de matices, rudimentos y un ritmo principal al estilo lineal…

…pasando por el mathcore arrollador de The Tony Danza Tapdance Extravaganza y sus frenéticas rágafas de doble pedal…

…hasta la onírica balada en 12/8 de Cocteau Twins donde trabajé con el agarre tradicional de baqueta y el swing/shuffle.
Más videos en el canal de youtube de Chus Maestro
Empecé el 2018 sólo con una mano operativa debido a una lesión que me obligó a replantearme la batería como zurdo y manco por unos meses…pero al mal tiempo: buena cara.
Nada más recuperarme, mi colega compositor y pianista Manuel Morales, me llamó para grabar batería y percusiones en el proyecto regalatumusica. Nadie se esperaba escucharme tocando un tema con aires latin, un hit de synthpop, una canción indie o una bossa nova. Reto superado.
Poco después colaboré por primera vez como percusionista en directo en el concierto presentación del nuevo disco de Megara ante un teatro Barceló completamente lleno. Después de tres años sin subirme a un escenario, hacerlo sin mi batería resultó cuanto menos curioso.
Y volví a las tablas fuera de lugar, esta vez con Teething "cantando" a duo el tremendo Doomsayer de Hatebreed junto a mi amigo Luis, hazaña que ha quedado registrada como bonus track en su nuevo EP "That Night We Regret" recién editado el 21 de diciembre.
Siguiendo con la percusión, a finales de año me incorporé al grupo de folk Aegri Somnia, donde me adentré en un estilo totalmente desconocido para mí, teniendo que aprender técnicas nuevas para tocar instrumentos como el pandero cuadrado, la pandereta o las cucharas. En diciembre toqué mi primer concierto con ellos, volviendo al escenario de nuevo sin batería, pero ya saboreando el alivio de no tener que transportar, montar y desmontar el instrumento…
Como guinda de último momento también contó conmigo Pedro Cristobal, mi instructor de buceo y músico de Speed Limit Cruiser, para grabar un tema de rockabilly en su proyecto recopilatorio de canciones temáticas sobre Madrid. Intrusismo justificado.
Sin embargo, ya como baterista en terrenos más comunes para mí de piruetas rítmicas y doble bombo, he estado todo el año componiendo y grabando junto a un gran músico un EP de metal extremo experimental que verá la luz muy pronto. Vuelven las carreteras con curvas.
Mientras tanto, mis alumnos han experimentado grandes mejoras rompiendo también su zona de confort al enfrentarse en cada clase a nuevos ritmos y técnicas que desafiaron su coordinación hasta salir victoriosos.
Así pues, se cierra un año lleno de desafíos musicales superados, con instrumentos y estilos novedosos que me han permitido evolucionar y abrir la veda a próximas aventuras sonoras en 2019. Seguimos trabajando en ello.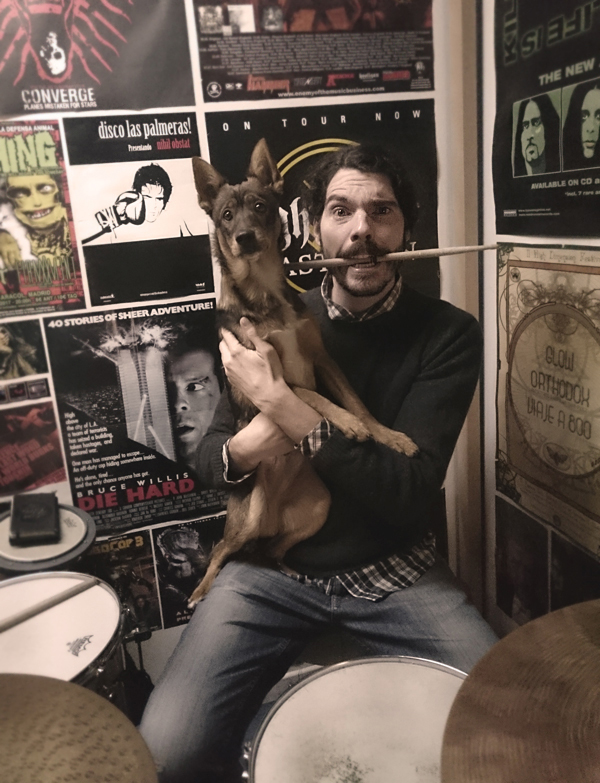 El mes pasado Megara me invitaron a participar como percusionista en el concierto presentación de su nuevo disco en el teatro Barceló de Madrid. Éstos son algunos momentos de los ensayos y del concierto temático (sobre Alicia en el País de las Maravillas) junto a su batería Pol DQ y Raquel (baterista de Broken Lingerine).

Más videos en el canal de youtube de Chus Maestro
Hace dos meses me rompí un dedo de la mano derecha y cuando el médico me estaba escayolando el brazo sabía que no podría tocar la batería durante bastante tiempo…
En lugar de deprimirme aproveché la oportunidad para practicar con mi mano izquierda todos los días con el pad. Después de dos semanas ya notaba bastante control con mi mano "débil" y empecé a tocar la batería en posición abierta.
Un amigo me sugirió probar canciones de Def Leppard y así lo hice para demostrar que se puede tocar sin problema con una mano como lo hace Rick Allen.
Actualmente ya tengo el dedo 100% recuperado y siento un buen balance de control entre las dos manos gracias al maratón intensivo de mano izquierda durante 6 semanas.
Espero motivar a otros bateristas que pudieran estar lesionados a seguir tocando y mejorando su coordinación.
Más videos en el canal de youtube de Chus Maestro
Dos videos recientes tocando con jóvenes y talentosos alumnos:
Alan Cohen (12 años) batiéndose en un duelo de reggaeton, porque llega un momento en la vida de todo batería en el que hay que enfrentarse al ritmo de reggaeton:
Nacho Hedroso (11 años) rindiendo tributo a Peter Steele con un clásico de Type O Negative elegido por él mismo:
Más videos de alumnos de Chus Maestro aquí
Antigua grabación –y la única evidencia existente– de April. Ésta fue la primera canción que el grupo compuso en 1999; entre esa fecha y el año 2001 compusimos 8 canciones más y tocamos dos veces en directo ¡Tan sólo tenía 20 años!
Más videos en el canal de youtube de Chus Maestro
El drum cover de King Crimson vuelve a estar on-line, esta vez en Vimeo:
Segunda improvisación experimental, esta vez en formato reducido de bajo/sintetizador/batería, resumida en este video con algunos fragmentos de la jam: